Sharon Wylie (D)*
2011 State Representative Candidate
49th District
Planned Parenthood Endorsement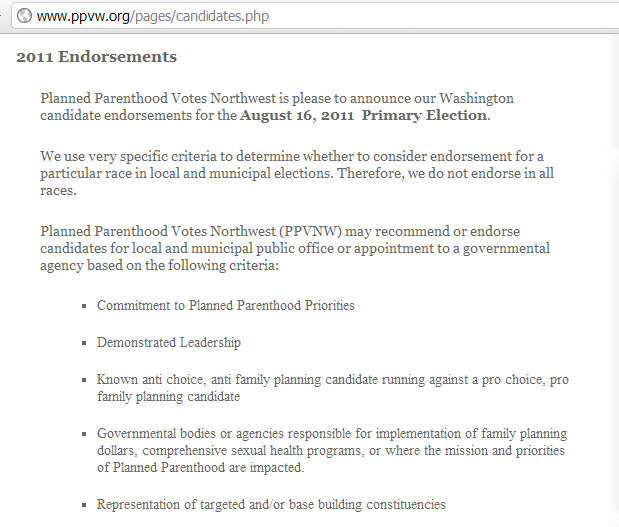 Retrieved Aug 8, 2011 from http://www.ppvw.org/pages/candidates.php

2011 National Women's Political Caucus Endorsement:
Our Mission:
The NWPC is a multi-partisan grassroots membership organization dedicated to increasing the number of women in elected and appointed office at all levels of government. Our mission is to identify, mentor, educate and support women leaders in our community who demonstrate a commitment to Reproductive Freedom and Women's Economic and Social Equality.
Sharon Wylie

Running for: State Rep 49th LD

Sharon Wylie is the current representative for legislative district 49. Because she was appointed to fill Jim Jacks' vacant seat, she has to run for re-election in November. She is a firm supporter of NWPC priorities. She has been a member of the Clark County WPC, is a former legislator from the state of Oregon and served as a lobbyist in Olympia for Clark County from December 2000 – 2007. Prior to moving to Oregon, she worked for two years as a staff assistant for inter-governmental relations for the Office of the County Executive in King County. She also worked for METRO and the City of Tukwila, and as co-director of the King County Sexual Assault Center. She is past president of the Council for the Homeless of Clark County and has served on their board since 2001, is a board member of a local low-income housing non-profit organization, Affordable Community Environments (ACE), and has served in various other volunteer capacities.

NWPC Statement: "She is a firm supporter of NWPC priorities"

Retrieved May 12, 2011 from http://wpcnet.org/?page=endorsements